---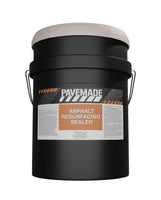 Quick Overview
NOTE: This is a LESS VISCOUS high performance Hybrid Sealer! It sprays easily and yields 3x more coverage than traditional asphalt emulsion sealers.
Asphalt emulsion sealer is READY-to-USE. No water dilution necessary or recommended.


Unique Emulsifier System contributes to the durability & quick drying
characteristics vs. other sealers available.

High tech manufacturing process results in reduced particle size and a
more stable & consistent emulsion product with Superior Scrub
Resistance...A Longer Lasting Finish!

Our state-of-the art manufacturing process incorporates the
lowest penetration asphalt available which eliminates the concern for
asphalt softness and tack which could result in tracking and unsightly
power tire markings.

Emulsion sealer dries to touch in approximately 10 minutes while
others need up to 24 hours - thus opening up traffic quicker.

High solids formula (58% min) has a dry film thickness 3X greater than
the coal tar ready mix equal.

Our formula provides a One Coat Option rather than the
conventional two coats due to higher solids content, dry film thickness,
ready-to-use & increased coverage provides increased job efficiencies
and economic savings in both material and labor.

Increased Savings per installed square foot due to increased product
viscosity & high solid content which provide coverage of 3 to 5 times
greater than its standard coal tar counterpart...200-300 sq. ft. per gallon
vs. 40-60 sq. ft per gallon.

Improved Air Quality vs. conventional coal tar sealers with the NO Odor. Pavemade Emulsion Sealer can be applied without concerns of lingering smell & air quality problems. Environmentally friendly product that is a perfect
application for schools, hospitals, and densely populated neighborhoods
where lingering odor is a concern

Pavemade Asphalt Emulsion Sealer contains Zero (0) VOC's, Zero (0) HAPS, Zero (0) PAH's+ Professional grade asphalt emulsion sealer.
Product Details
Pavemade Asphalt Emulsion Sealer is an easy stir asphalt emulsion sealer. This is a professional heavy duty sealer with high solid contents. Typical usages are for the sealing and resurfacing of asphalt driveways, car paths and bike paths, and parking lots of all sizes. It exceeds federal specification ASTM D8099.

Pavemade Asphalt Emulsion Sealer is formulated using the most advanced polymer technology and fine anti-skid iron slag aggregate (30/60 sieve size comparable to sand) to provide faster curing time, better durability, high adhesion performance, and better color retention. This asphalt emulsion sealer gives a fresh jet black finish for any aged black top surface.

For an asphalt emulsion sealer that lasts a long time and is easy to apply, you can't do any better than this Pavemade professional grade Asphalt Emulsion Sealer. Designed to keep pavements pliable and repair damage such as small cracks in the asphalt, it is an ideal solution for professionals and DIY enthusiasts alike.
By filling any voids in the surface of the pavement, the product helps to protect it from wear and tear, adverse weather conditions, salts, oils, and everything in between.
So, if you're looking for the perfect sealcoat to help improve the quality of a highway, a driveway, or other asphalt surface, Pavemade's Asphalt Emulsion sealer is certain to suit your needs.
Specifications
Coverage: 200-300 Square Feet per Gallon.
Color: Black
Quantity:
+ 5 Gallon

+ 6x 5 Gallon

+ 12x 5 Gallon

+ 24x 5 Gallon

+ 55 Gallon

+ 275 Gallon
Applications
Pavemade Asphalt Emulsion Sealer is used as a protective coating on asphalt pavement surfaces from petroleum remnants, weather, and traffic wear. It is ideal for asphalt driveways and asphalt parking lots and roadways.

Storage and Limitations: Do not allow  Pavemade Asphalt Emulsion Sealer to freeze. Do not use Pavemade Asphalt Emulsion Sealer on concrete. Do not use on bituminous surfaces less than four months old.
Apply the Asphalt Resurfacing Sealer and Filler to a clean surface that is free from all foreign matter and debris. The sealer should be kept dry until it is fully cured. The material can be applied by brush, squeegee, or sealcoating spray equipment.
Coverage: 200-300 Square Feet per Gallon.
FAQs
What is Asphalt Sealcoating?
Asphalt sealcoating extends the life of asphalt surfaces by several years, by protecting them from everyday damage, weather, oils, and more. To sealcoat an asphalt surface, apply an even layer of Pavemade's Asphalt Emulsion Sealer.
Is Asphalt Sealcoating Necessary?
Asphalt sealcoating is not strictly necessary. However, to keep a parking lot, driveway, or road surface in top condition and protect it from long-term damage, it is highly recommended. Without applying a layer of sealcoat such as Pavemade's Asphalt Emulsion Sealer, surfaces are more likely to crack and crumble.
How Long Does Asphalt Sealcoating Last?
To keep surfaces looking their best and ensure they remain protected, you should apply Pavemade Asphalt Emulsion Sealer roughly every three years. For older, more damaged asphalt surfaces, you may need to apply a layer of sealcoat every one or two years.
How Long Does It Take for Asphalt Sealer to Dry?
It usually takes around 24 hours for a layer of sealcoat to dry. However, Pavemade's Asphalt Emulsion Sealer can accommodate cars and pedestrians within eight hours, as long as it is applied on a warm, dry day.
For sealcoat applied during adverse weather conditions, you may need to allow up to 48 hours for the asphalt surface to fully dry.
How Reliable is Pavemade Asphalt Emulsion Sealer?
Pavemade Asphalt Emulsion Sealer has been designed with professional use in mind, guaranteeing you an expert finish on asphalt surfaces of all kinds. Anti-skid and jet black, too, it restores the color of blacktop pavements and similar surfaces, all the while being safe for pedestrians and cars alike.
But, it's not just an expert appearance you can rely on when you use our own brand emulsion sealer. Engineered using the latest and most advanced polymer technology, it is in line with federal specification RP355e and compliant with the Environmental Protection Agency's most up-to-date regulations. As such, our sealer is more hardwearing and less harmful for the environment than standard coal tar sealers.
Not to mention the fact that it protects asphalt surfaces for years to come, no matter how much of a toll they take. Clearly, our Asphalt Emulsion Sealer ticks all the right boxes.
Benefits of Using Pavemade Asphalt Emulsion Sealer
Effective, affordable, and long-lasting, there are so many reasons to opt for Pavemade's own brand Asphalt Emulsion Sealer. For starters, it gets the job done well. Created by experts to provide improved curing characteristics, including durability, adhesion, and color retention, it protects asphalt surfaces and extends their life by several years.
Another factor is how easy it is for just one person to apply. The only equipment needed is a squeegee or similar implement. Then, once it's applied, it can take as little as eight hours for the surfaces to be ready to take cars and people again.
Sleek, anti-slip, with high-quality results that last, it is a product that both professionals and DIY fans are sure to love.
How to Use Pavemade Asphalt Emulsion Sealer
Apply our Asphalt Emulsion Sealer to any asphalt surface, including sports surfaces, roads, and driveways, to keep them in top condition for years to come.
To do so, start by removing all dirt and debris. Then, apply a layer of sealcoat using a brush, squeegee, or spray equipment. You should be able to cover between 60 and 80 feet per gallon of emulsion sealer.
Our product can be applied to damp surfaces. However, for best results, apply to dry asphalt on a warm day with low humidity, and avoid applying before, during, or after rainfall. This is because the sealcoat material will not adhere properly to the asphalt if the surface is wet. Apply it when conditions are perfect, though, and the emulsion sealer could dry in as little as eight hours. It might take up to 48 hours for sealcoat to fully dry during adverse weather conditions.
For more details, read the information included with your delivery of Pavemade Asphalt Emulsion Sealer.