---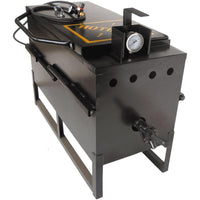 This 30 gallon stationary hot tar kettle is the best choice for parking lot repair, roof tar application, and hot mop pan installation. Perfect for contractors, property managers, school districts, cities, townships and other municipality.
Fastest heat-up time (30 min) for any 30 GAL stationary asphalt melter kettle.
Fully Assembled.

 

Ready to go.
Lifetime Warranty

 

on melter body
2-4 day

 

Free Shipping

 

in Contiguous U.S.
Product Details:
Holds 30 gallons of hot rubberized crack filler.
Optimized efficiency with built-in heating. Asphalt starts to melt within minutes. Cuts melting over time up to 50%.
Thick triangular agitation bar, never twists during agitation.
Accessories:
High quality temperature gauge
500,000 High BTU torch with needle valve
8 FT high pressure flexible hose
LP gas regulator and propane tank hook-up
Spark striker
Cast Iron drum valve with extra long handle
Comes assembled and ready to fire up!
SPECIFICATIONS
Model name: HOTBOX 30
SKU: HB30
NMFC: 98540-02
Capacity: 30 gal.
Material: Hot rubberized crack sealant (30lb and 50lb blocks)
Weight (crated): 210 lbs.
Weight: 170 lbs.
Dimensions (crated): 45''L X 28''W X 40''H
Construction: Steel construction CNC welding
Steel Gauge: 14
Support structure: Double-wall, air jacketed
Surface Finish: Electro-static high-temperature black paint
Burner: Optimized heat guide, with 10 min heat-up time

(Actual color may vary from photograph)