---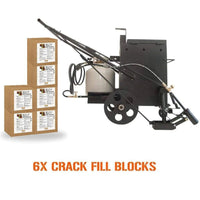 Quick Overview
Buy and save! Our bestselling HOTBOX 10 with 6x hot crack fillers special bundle!
Fully Assembled! 

Made in the USA

Ultra-fast heat-up time


Air-jacketed

Double wall insulation


Main torch included


Dual torch available


Professional grade rubberized hot asphalt crack filler

Repairs 1000 - 1500 linear ft of crack.

Lifetime warranty.


Free 2-5 day shipping


Residential address OK
Product Details
Our industry-leading asphalt crack filler machine is expertly crafted by crack filling professionals with professional contractors in mind. Come fully assembled and 100% made in the USA, it surpasses other push melters in its ability to efficiently melt down rubberized crack filler, allowing for precise pouring into asphalt cracks and ensuring a strong bond. Unlike many inferior direct fire melters available on the market, the HOTBOX 10 by Pavemade is constructed using the highest quality materials, guaranteeing unmatched durability even under the most challenging on-site conditions. In fact, we have such unwavering confidence in the product's excellence that it comes with a lifetime warranty on the melter body! With its exceptional reliability and user-friendly design, you can trust the HOTBOX 10 to perform flawlessly for years to come.
Experience the swiftest method for filling cracks in asphalt, pavements, and driveways with the HOTBOX 10 asphalt crack filler. This machine provides a simple and cost-effective solution that is ideal for a wide range of applications. Whether it's tackling long driveways, repairing parking lots, or carrying out hot mop pan installation, our best-selling machine is renowned for its outstanding performance.
While specifically engineered to withstand the rigorous demands of busy construction sites, the HOTBOX 10 is also highly versatile and suitable for various users. DIY homeowners, contractors, property managers, school districts, cities, townships, and other municipalities can all reap the benefits of this remarkable machine.
Simply push it along the cracks at a walking pace, and you'll witness firsthand its remarkable efficiency and effectiveness.
What Does The HOTBOX 10 Crack Fill Machine Include?
Our 10 gallon push-behind asphalt crack fill machine is a must-have in crack-filling equipment. It has everything you need to complete high-quality repairs in record time and with ease. Reliable, durable, and affordable, the HOTBOX 10 was engineered to be a best-in-class product.
Its all-steel construction and 14 gauge, double-walled melter body help to make the HOTBOX 10 incredibly hard-wearing.

It has a 10 gallon capacity for hot rubberized crack filler, for when you need to tackle the big jobs.

The agitation bar is thick and never twists or bends during agitation. It handles easily, so you can agitate as you go.

The steel wheels do not pick up material or leave marks while you work.

There are ball bearings in the front and back wheels, which makes for smoother rolling and reduces operator fatigue, even on inclines.

With folding handles, the HOTBOX 10 takes up less space in trucks and trailers, making it easier to transport.

It promises even heat distribution and faster heat-up times. In fact, with a propane burner and air-jacketed melter, it can melt down rubberized crack filler in less than 20 minutes – faster than most other models on the market!
(Actual color may vary from photograph)
How Reliable Is The HOTBOX 10?
We can say with confidence that the HOTBOX 10 is one of the most reliable machines on the market right now. Designed by experts and built with top-of-the-range materials, we've put everything you could possibly need into the product and more. Not to mention the fact that it's affordable, too!
So, for those wanting a professional finish on the cracks they fill, the HOTBOX 10 is hard to beat. But, while we know we mean it when we say it's built to last, you might not be so sure. No need to just take our word for it, though! With a lifetime warranty on the main melter body, a one year warranty on parts, and free technical support all included as standard, you can rest assured that you're buying the perfect product.
Benefits Of Owning A HOTBOX 10 Asphalt Crack Filler Machine
There are plenty of benefits of owning an asphalt crack fill machine like the HOTBOX 10, particularly if you're a contractor. For one thing, they leave cracked asphalt and pavement surfaces looking smooth and secure for years to come. So, if you're a contractor dedicated to doing a good job, then this is the machine for you.
Using the HOTBOX 10 to complete crack repairs can boost profitability, too. Think of it this way: if you can complete crack filling jobs quickly, you can do more of them. And, if they're of a high enough quality, you can push up your prices, too. Since our easy-to-use machine heats up crack fill more rapidly than competing products, you could get plenty of big, expensive jobs done in record time!
DIY fans can also get their money's worth with the HOTBOX 10. Promising repairs that will last, regular investments in poor quality liquid crack filler will be a thing of the past. So, whether you're a professional contractor or a homeowner with a rough-looking driveway, the HOTBOX 10 is a solid investment.
How To Use A HOTBOX 10 Asphalt Crack Filler Machine
It's really easy to set up and use a HOTBOX 10 crack fill machine. You only need to follow three simple steps and you'll be good to go.
Put a block of rubberized asphalt crack filler in the main melter chamber, then light your torch and allow the material to heat up in 20 minutes or less. You can also use the agitator as it warms to speed up the heating process.

Check to see that the crack filler has fully melted and turned from solid to liquid form. Once it has, you can start to push your HOTBOX 10 at walking speed along any cracks you wish to repair.

To deposit the rubberized crack filler, use the controls on the machine's handles. Simply press the trigger lever as you walk along each crack, and the filler will be deposited into a scraper. This scraper will smooth the crack filler out along the crack and create a seal.
For more information, consult the detailed operating manual included with your product.
Applications
There's a reason the HOTBOX 10 is as popular as it is. As an easy-to-use, reliable solution, it is the ideal product choice for anyone who has crack filling needs. Use it to apply rubberized crack filler in the most cost-effective way possible, for a professional and long-lasting repair to your asphalt and pavement cracks.
With the HOTBOX 10, you can cover between seven and 10 linear feet of cracks per pound of crack filler, and in just seconds! So, with half a pallet of rubberized crack filler, you'll be able to bond the cracks that cover a small driveway or similar surface area. And, with six blocks of crack filler, you could repair a small parking lot or long residential driveway. Whatever your needs, the HOTBOX 10 will be up to the task!
It also requires minimal maintenance. You don't even have to drain or clean the unused crack filler after each run. Instead, the HOTBOX 10 crack fill machine will simply reheat whatever's left over in the melter body when you next use it, so neither your time nor your materials get wasted.
While most popular with professional sealcoating and crack filling contractors, the HOTBOX 10 can also be used by property managers and homeowners looking to do their own asphalt crack repairs. We have even seen homeowners pitch in to purchase and share one of our HOTBOX 10 crack fill machines and a pallet of crack filler, so that together they can serve the needs of their community!
FAQ

What Is The Best Way To Fill Asphalt Cracks?
You should use a push melter to fill asphalt cracks with rubberized asphalt crack filler. As the HOTBOX 10 crack fill machine is able to heat up rubber almost twice as quickly as other models on the market, it is the most time-efficient and professional way of repairing cracks in asphalt and pavements.
How Long Does It Take For Hot Asphalt Crack Filler To Heat Up?
Asphalt crack filler takes as little as 20-30 minutes to heat up with the HOTBOX 10. Its evenly guided heat distribution makes it the fastest melter applicator on the market, cutting heat-up time by almost 50%!
How Long Does It Take For Hot Asphalt Crack Filler To Dry?
Asphalt crack filler applied by a HOTBOX 10 can take as little as 30 minutes to dry in cooler temperatures. In hotter climates, it may take 45 minutes or longer, but will rarely take more than an hour.
Is It Okay To Leave Hot Asphalt Crack Filler In The Machine After Usage?
Yes! With the HOTBOX 10, you can leave any unused crack filler in the machine after you've finished your run. You will not have to clean it out or drain it. The machine will simply reheat the leftover crack filler during your next usage.
How Often Should I Clean My Asphalt Crack Filler Machine?
You should clean your asphalt crack fill machine after about five runs, to prevent rubber building up and burning in the melter. To clean it, simply heat it up and scrape out the remaining crack filler inside with a scraping tool, being very careful not to burn yourself.
Specifications
Model name: HOTBOX 10
SKU: HB10
NMFC: 98540-02
Style: Push
Fuel type: Propane
Capacity: 10 US Gallons
Weight (crated): 160lbs
Weight: 120lbs
Dimensions (created): 34"L x 28"W x 36"H
Dimensions (handles folded down): 32"L x 26"W x 35"H
Dimensions (handles up): 45"L x 26"W x 36"H
Construction: Steel construction CNC welding
Steel gauge: 14
Support structure: Double-walled and air-jacketed, with a hinged lid
Surface finish: Electro-static, high-temperature black glossy powder coat
Burner: Optimized heat guide, with 15 minute heat-up time
Handles: Foldable push handles with hand controls
Front wheels: 2 x 1/4'' steel with ball bearing
Back wheels: 1 X 1/4'' steel swivel with ball bearing
Premium accessories: High quality temperature gauge and leak guard
Accessories Included

We've kitted out the HOTBOX 10 with all the needed accessories, so that you can get the job done as quickly and efficiently as possible. Heavy-duty, hard-wearing, and always top quality, the accessories included with our crack fill machine make it a superior product at an unbeatable price.
High quality temperature gauge.

500,000 high BTU torch with needle valve.

8 FT high pressure flexible hose.

LP gas regulator and propane tank hook-up.

Spark striker.

Bonus: A leak guard to catch drips at the end of a run.
Please note: standard sized 20lb propane tank is not included with the HOTBOX 10.