---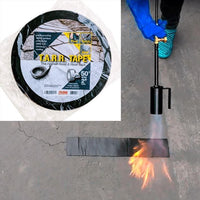 Quick Overview
+ Asphalt Crake Tape made with Rubberized Asphalt Crack Filler
+ Simple to apply, burn on with a propane torch burner
+ Melts into cracks and joints
+ Professional results
+ Traffic ready in 5 minutes
+ Can apply sealcoat over
+ Applications: driveway crack repair, utility cut sealing, small pothole patching, concrete joint sealing, leaky roof patching
+ Waterproofing and Watertight
+ 2 in x 50 ft each roll
+ Free 1-4 day Expedited Shipping 
Product Details
If you're looking for a solution to repair driveway cracks, look no further than Asphalt Tape. This innovative product offers a modern approach to fixing asphalt and concrete cracks. Whether you need to repair roads, driveways, or even roofs, this Tar Tape is the perfect choice. Its simplicity is astounding, making it incredibly user-friendly. Just apply the tape onto the desired pavement crack, use a torch to activate it, and voila! The result is a permanent fix that eliminates any potential damage to your asphalt driveway and concrete surfaces. Rest assured, our Tar Tape guarantees high-quality repairs, as it is crafted from the same hot melt rubberized crack fill material used on airport runways and highways. Embrace the future of driveway repair with Asphalt Tape.

Tar Tape makes it easy to permanently repair or join asphalt, concrete, roofs, and sports surfaces. Tar Tape is an innovative torch-on rubberized asphalt crack repair tape. The crack filler tape melts into the asphalt or concrete driveway cracks and creates a permanent bond, and waterproofs and preserves the pavement surface. The crack fill is the same hot melt rubberized crack filler used on roads, highways, and airports. 
+50 ft long x 2 in wide rubberized crack sealant
+Elastic fiber reinforcement layer
+Waterproofs and prevents future damage
Buy the best asphalt crack filler. Tar Tape will quickly and permanently repair asphalt and concrete cracks alike and prevent them from causing damage to your driveway, pavement, parking lot, tennis court, or roof. It works better and is easier to use than the Pli-Stix crack filler: you don't have to cut the crack filler rope into smaller pieces in order to fit in the cracks. It is perfect for driveway and parking lot crack repair applications prior to sealcoating. Give it a try and we guarantee you will love it!
Instructions
Peel - torch - seal.
Peel off protective backing. Lay the sticky side down over the crack/joint.
Once all the crack filler is in place light the propane torch to melt the hot tar so it flows inside the crack or joint and forms a permanent bond. Voila - you are done! 
Now the crack is successfully sealed. It is traffic ready almost instantly. Just wait a moment till the melted black top tar is cool to touch. Now you can enjoy a job well done on a repaired driveway, parking lot, or roof.
Prep tips: Sweep off loose leaves and dirt prior to laying down the tape. Make sure surface is dry. For best result, torch over the cracks prior to laying down tape.
Specifications
Color: Black
Length: 50 feet
Width: 2 inches
Weight: 5-6lb per roll
Quantity: Available in a single pack, double pack, four pack, and eight pack. The four pack comes with a free torch!
FAQs
What is an Asphalt Tape?
Asphalt tape is also called asphalt crack tape, or asphalt joint tape. It is a specialized type of tape designed for sealing pavement cracks and joints. It is made of a combination of asphalt or bitumen, flexible materials like SBS rubber or tyre rubber, and adhesive additives. The tape is used primarily for repairing cracks and preventing water infiltration in asphalt surfaces such as driveways, parking lots, and roads. It offers a convenient and efficient solution for sealing and bonding troublesome cracks, providing a waterproof barrier and helping to maintain the integrity of the asphalt surface. Asphalt tape is known for its durability and resistance to weathering, making it a popular choice for DIY enthusiasts, contractors, and professionals in the construction and maintenance industry.
Since it gets the job done easily and professionally, this asphalt tape product is a common choice for contractors looking to minimize their workload while maximizing quality. However, the simplicity of the application makes it similarly popular with home improvement DIY fans.
Pavemade's asphalt tape is a leading driveway crack tape formulated by industry asphalt specialists. By applying the crack sealer tape with a garden propane torch, it is able to permanently seal and waterproof the damaged cracks and asphalt to concrete joints and to prevent further damage in hard-wearing surfaces. This crack and joint Tape is our best selling product for driveway repair.
How Do You Seal Cracks in Asphalt?
It's really easy to seal cracks in asphalt and concrete using Tar Tape, which is made of heavy duty rubberized crack filler. Simply peel the protective backing off your Tar Tape, lay it along the length of a crack, and torch it so that it melts into the crack. This will create a watertight, permanent seal.
How Long Does it Take for Asphalt Tape to Dry?
Asphalt tapes including Tar Tape should take no longer than five minutes to dry. However, it will harden and dry far quicker in cold temperatures.
Spring or autumn is the best time to perform crack sealing jobs, because this is when asphalt and concrete surfaces such as pavements will be midway between their hottest and coldest temperatures.
How Long Does Crack Seal Last?
Cold crack sealer lasts about 12-18 months since application. Hot crack sealers last much longer, and a good hot crack sealer can virtual make a "permanent" fix. A good asphalt tape such as TAR Tape provides up to 10 years of repairs to cracks in asphalt and concrete surfaces. The water tight seal created by the burnt-on rubberized crack filler stops water getting in, which can cause cracking and fretting. Without protection, eventually these issues can lead to the breakdown of your surfaces.
How Much Does Crack Filling Cost?
It costs  $3.00-$5.00 per linear foot of crack to be done professionally.
There are however effective DIY methods for crack filling that is more cost-effective. Heat asphalt tape has become a very popular method. You will need a self melting heat asphalt tape like this TAR tape and a garden weed torch. You can repair 50 feet worth of cracks in pavements and other such surface for the price of just one roll of Tar Tape. 
Can I repair driveway cracks myself, or do I need professional help?
Yes, you can use asphalt tape to repair driveway cracks. Asphalt tape is specifically designed for crack repairs in asphalt surfaces, including driveways. It provides a convenient and effective solution for sealing and waterproofing the damaged areas, preventing further deterioration.
It is easy to repair cracks using the TAR Tape. All you have to do is peel, torch, and the tape will melt itself into the cracks to make a water tight seal.
Start by cutting down the Tar Tape to the size that you require and then peel off the protective backing.

Apply the tape to the crack or joint you need to repair, sticky side down. Once it is in place, light your propane torch or other heat source to melt the tape. The hot tar will flow inside the crack and form a permanent bond that prevents the ingress of water and other further damage.

And you're done! Now, your crack is permanently bonded with a watertight seal.
Just ensure that you prep the surface correctly before you get started, by making sure it is dry and sweeping away any dirt or loose leaves before you apply the tape. For best results, you can also torch over the cracks prior to laying down the tape.