---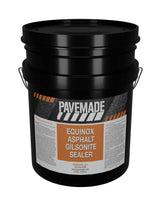 Product Description
Shipping Note: Shipping Gilsonite sealers to NY, NJ and CA is prohibited by those respective state laws. Contact us for options or details.
Product Description:
Pavemade Equinox Asphalt Gilsonite Sealer is a Ready-To-Use solvent-based asphalt oil sealer specially blended with refined bitumen (processed oil), Gilsonite (natural bitumen), and Mineral Spirits. It is one of the only types of solvent based sealers on the market and this unique formula gives it a higher penetration into the top layers of asphalt for maximum rejuvenation and bonding. Specially formulated with Gilsonite as a primary ingredient, this addition helps strengthen and fortify the sealer for a tougher, more durable product. If you aren't familiar with Gilsonite, it is a natural form of bitumen (the binder that holds the asphalt roads together) and has proven to be one of the best asphalt and sealer modifiers for the money. Its unique properties actually strengthen refined bitumen and it has become a very popular additive to many asphalt road projects.
If you're new to Gilsonite sealers, you may have run across articles claiming that they're inferior. Yeah, we've seen those articles too and they're opinion-based articles written by contractors trying to sell a service. If you want to believe them, feel free, but we want to make sure you understand that Gilsonite sealers, like most products, are designed for a very specific and unique purpose. We'll do our best to help you form a better opinion on whether you need a Gilsonite sealer below.
When to Use:
There are a lot of contractors who use Gilsonite sealers as a general sealer and while this is fine in most situations, we recommend using the Pavemade Equinox Asphalt Gilsonite Sealer as an asphalt rejuvenator for old asphalt.
Since Gilsonite sealer is a solvent-based sealer, the solvents soften the top layers of the old asphalt binder and allow the new asphalt binders to mix with it. Where it gets interesting is the use of the Gilsonite, which is a naturally occurring and unique form of asphalt that has been fortified with other natural elements to form a harder and stronger asphalt. What this means for you is a new top coat of asphalt that removes the old oxidized layers and replaces them as if it were new.
Really what this comes down to is what you want out of your sealer. If you have new asphalt that is maybe 1 to 2 years old, it's in good shape and you will want to use an asphalt emulsion or coal tar sealer to seal the top layer of asphalt so the sun and weather don't oxidize it.
However, if you have older asphalt that is 5 to 10 years old, or even older, you may want to consider using the Pavemade Equinox Asphalt Gilsonite Sealer so you can repair the top layer and remove the oxidization. Once you've repaired your asphalt with the Gilsonite sealer, you would come back 1 to 2 years later and seal it with a good quality cover based sealer like asphalt emulsion.
Basic Uses: LN-11 Equinox Asphalt Gilsonite Driveway Sealer is used as a rejuvenator and sealer on bituminous asphalt parking lots and driveways.
Storage and Limitations: Do not heat the container. Do not apply on bituminous surfaces less than 90 days old, including driveways. Do not apply on surfaces with a coal tar coating
Application: Pavemade Equinox Asphalt Gilsonite Driveway Sealer should be applied to a thoroughly clean and dry bituminous surface after all cracks and holes have been filled with Crackfiller. The material may be applied by brush, squeegee, or spray equipment. This material can be used year round.
Coverage: 100 Square Feet per Gallon.
Composition and Safety: For complete safety information please review the Safety Data Sheet for this product.
Solids: 65 %
Dry Time: 2 to 4 Hours Minimum. No Vehicle Traffic for 24 Hours
Application Surfaces: Bituminous Surfaces
Application Temperature Range: No Limit