---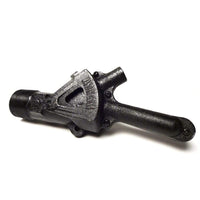 HOTBOX 30 DRUM FAUCET:
Replacement molasses faucet for Hotbox30
Cast iron 1 1/2 inch diameter
Fits all standard 30 gallon melters
Original part for maximum lifetime
MADE In USA
Cast Iron Gate Valves - Fast flow control without splashing
Padlockable handle
Manual and self-closing models Excellent for dispensing non-flammable viscous liquids.
Super rugged cast iron gate valves have a large, nearly straight bore with an oval discharge opening angled at 45º-60º for fast flow of thick liquids without splashing.
Self Closing Long Handle NPT Inlet Size: 1 1/2 in.
Weight: 6 lbs.