---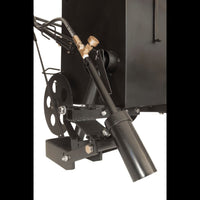 Front Torch Set - HOTBOX10
Front torch set for Hotbox10 melter applicators.
50,000 BTU capacity.
Independent flow control from main torch.
Ideal addon for burning off weeds and drying up cracks.
An absolute dry condition is the key to prevent crack re-emergence.
Includes front torch, brass needle valve w/ orifice, 8ft hose, splitter (to be connected to lp-gas regulator on tank side).
Original part. Maximum lifetime.