---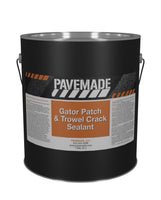 Repair Alligator Cracks in blacktops with Pavemade Gator Patch. This easy to use alligator patch is an economic solution to heavily cracked asphalt. Ideal DY repair for driveway alligator cracks and parking lot cracks.
Pavemade Gator Patch & Trowel Crack Sealant is a blend of asphalt emulsion, mineral fillers, organic fibers, ground rubber, and plasticizer. Pavemade Gator Patch & Trowel Crack Sealant is a ready-to-use mastic patch polymer modified asphalt emulsion and is 100% ASBESTOS-FREE. 
It is very durable and designed for heavy duty repairs and filling cracks in excess of 1/2" width in asphaltic surfaces. Repairs can be done on asphalt parking lots, playgrounds, walkways, running tracks, tennis courts, driveways, etc. In addition to alligator cracked areas, it can also be used to fill shallow depressions up to 1/4" deep or to fill cracks in excess of 1/2" wide or 1/2" deep on any asphalt surface. 
Pavemade Gator Patch & Trowel Crack Sealant has a much thicker consistency, and requires a trowel or squeegee to coat the trouble area. Do NOT allow to freeze. This material should not be used when rain is eminent or the temperature is below 50°F.
How to repair blacktop gator patch?

1) Prepare surface: tack coat or torch heating
In addition to thoroughly cleaning out any debris and weeds, it is recommended to apply tack coat primer so the alligator patch will bond to the asphalt better. For alligator areas, the tack coat MUST be diluted with 2:1 parts water so the primer will "leak" into the cracks to coat the walls of the cracks. The primer shouldn't be used to "fill" the cracks. For depressed areas of asphalt, a thin layer of primer is sufficient.
2) Applying the gator patch
- Mix contents using a drywall mixing paddle and drill motor.
- For larger areas, dump out about 1 - 2 gallons of the patch at a time from the pail, or if it is a smaller area, using a standard trowel, scoop out the patch and "sling" it in the area needing patching.
- Work the patch material in with a squeegee or trowel. This product is very thick and will require some effort to completely push the patch material into cracks and crevices.
Fill depressions over 1/4" deep in multiple thin applications of no more than 1/4" at a time, allowing each coat to dry thoroughly.
If you want a slight texture on the patch area, use a street broom and lightly pull the broom toward you over the coated area. Don't use any downward force, simply let the weight of the broom do the work for you.
3) Recommended: Sealer
Apply Asphalt Sealer covering the entire area patched to ensure the patch is sealed with a emulsion based sealer.