---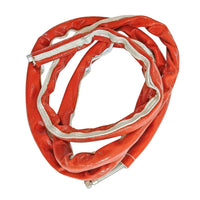 Hot Crack Sealing Hose - 20' x 1" Hot Rubber dispensing hose (non heated) for your crack sealing operation. Hot Tar Hose is designed for transfer of hot oil and tar in applications to 455°F.
Crack sealing applications sometimes require a hose to transfer hot tar material from the kettle to the desired location. This hose is ideal for gravity feed applications where you need to transfer crack fill to hard to reach or underground locations. This 20' tar hose will attach to your existing crack kettle. Our hoses for hot rubber applicators are the best in the industry and will work on your Hotbox 10 and Hotbox 30 machine.
20' Hot Tar Hose is non heated but made for hot material transfer. Perfect accessory hose and length for Hot Rubber Applicators. Comes with adapter to connect to Hotbox 10 and Hotbox 30 units. Compatible with Cimline and Crafco machines.
20' Hose Length 
For all Cimline Melters
Fits all Crafco Melters
Superior to Original Equipment!