---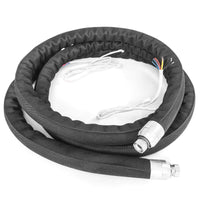 Quick Overview
Fits all Cimline Melters 
Fits all Crafco Melters

Better performance at Half cost.

Lightweight

Highly Flexible
Cool to touch
Superior safety

Minimizes clogs 
Able of higher flow rate than Cimline and Crafco Hoses
Product Details
Electrically heated Hot Crack Sealing Hose.
Compatible with Cimline and Crafco crack sealer machines.

Larger Crack sealing equipment require a hose to transfer and apply hot tar crack filler from the kettle to the pavement. Pavemade 20' electrically heated hose is ideal for gravity feed applications where you need to transfer crack fill to hard to reach or underground locations. Pavemade 20' tar hose will attach to your existing crack kettle. Our hoses for hot rubber applicators are the best in the industry and will fit both crafco mastic melters and cimeline melters.
Pavemade 20' Hot Tar Hose Heated and made for hot material transfer. Note hose does not come with electrical control box. Perfect accessory hose and length for Hot Rubber Applicators. Connectors are 3/4'' Female JIS & JIC variants. Compatible with Cimline and Crafco machines.

Specifications
Electrically Heated Material Hose
Hose Weight:  23 Lbs
Insulated
Braided Hose Core
Flexible 8" Bend Radius Empty
Flexible 12" Bend Radius With Material Inside
Lightweight, 15 Lbs Lighter Than Crafco Hose
Uses 6 Independent Heating Elements
Heating Elements Each Independently Wired. If A Heating Element Breaks The Remaining Elements Will Continue To Function, Keeping You Operational
Safety Shroud With Crimped Ends  Removable Hose Shroud With Quick Connect Pin
Continuous Service Temperature At 455 F (233c)
Intermittent Temperature To 505 F (263c)
Working Pressure 1050 Psi
Test Pressure 1525 Psi
Burst Pressure 4100 Psi
Minimum Bend Radius 5.5 Inches (14cm)
Integrated Male Swivels On Each End