---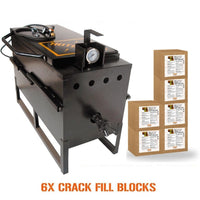 This 30 gallon stationary hot tar kettle is the best choice for parking lot repair, roof tar application, and hot mop pan installation. Perfect for contractors, property managers, school districts, cities, townships and other municipality. This combo comes with six blocks of premium asphalt crack filler blocks so you can get the job done right away!
Fastest heat-up time (30 min) for any 30 GAL stationary asphalt melter kettle.
Use our crack fill calculator to calculate how many LBS of crack fill you need.
Fully Assembled.
Professional Direct Fire Kettle for Hot Pour Rubber Crack Filler
DOT / FAA approved extreme weather

 

direct fire rubber crack filler.
Combo Repairs

 

1,000+ LFT

 

of asphalt cracks or concrete joints.
Bonus

 

Blowout Guard

 

($80 value)
Lifetime Warranty

 

on melter body
2-4 day

 

Free Shipping

 

in Contiguous U.S.
Product Details:
Holds 30 gallons of hot rubberized crack sealant.
Optimized efficiency with built-in heat-guide. Asphalt starts to melt within minutes. Cuts melting over time up to 50%.
Thick triangular agitation bar, never twists during agitation.
Designed to work with our Hotpot or Hotwheels.
Perfect for driveway repair, roof repair, and hot mop pan installation.
Accessories:
High quality temperature gauge
60,000 High BTU torch with needle valve
8 FT high pressure flexible hose
LP gas regulator and propane tank hook-up
Spark striker
Cast Iron drum valve with extra long handle
Comes assembled and ready to fire up!

(Actual color may vary from photograph)
Pavemade Premium Easy-Melt Crack Filler
Repairs 1000 - 1500 linear ft of crack.
Premium rubberized hot crack fill for direct fire melters.
Fast melting, stronger bonding, and supreme stretchability once applied.
Permanently flexibly seal cracks instead of using temporary rigid epoxy-based fills.
Performs well in a wide temperature range.
Recommended for HOTBOX melters.