---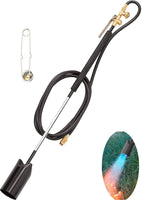 The Pro Propane Torch Burner is perfect for many different uses: melting snow and ice, removing parking lot markings, paint removal, thawing frozen pipes and equipment, melting tar and asphalt, and so much more.
The Pro Propane Torch comes fully assembled and ready to use. At 500,000 BTU this is the ultimate torch for your heavy-duty jobs. This torch is compatible with standard liquid propane cylinders including, 5 lbs., 10 lbs., 20 lbs., 30 lbs., 40 lbs. and 100 lbs. propane cylinders. The Pro Propane Torch includes a 10 ft. hose rated at 350 psi, as well as a brass adjusting valve to control the flame.
Package includes a flint striker for lighting the torch. Propane cylinder not included.